As much as I lament being a girl certain days...

I think I'd always choose to be re-born female.

(just a tad biased here)


If only for appreciating how it feels to be back to "normal" after an excruciating past couple of days. I used to half-boast how I never suffered the usual symptoms. HA! I was hit with a pounding migraine, overall bloated-ness, and if the two previous posts were any indication, a case of sentimental woes.

(thanks for bearing with that)


I ought to heed the lesson here and remember to stop announcing how I've never had a hangover before karma decides to teach me a lesson.
(believe me... the irony of saying as such on a
public
blog is not lost upon me)
I swear it's the quarter-Mongolian blood in me or something. I remember everything, I've never thrown-up, and I don't get the Asian red either. The last part surprises most people because (courtesy of my mom) I always have a slight pink flush to my cheeks and when I'm laughing real hard, it flushes a deeper shade...accompanied by loud, head-thrown back sort of laughter and trademark weak knees.

Some claim it's because I just didn't drink enough.

Ahh, ha! And, of course, I was curiously arrogant enough to test my limits.

Long story short?

I'm simply a freak of nature masquerading as an Asian. Just a strong buzz that peaks faster and plateaus out for a longer time period.

(but I digress...)


Because if you can believe it, I meant this to be a post on Green Tea Bubble Tea...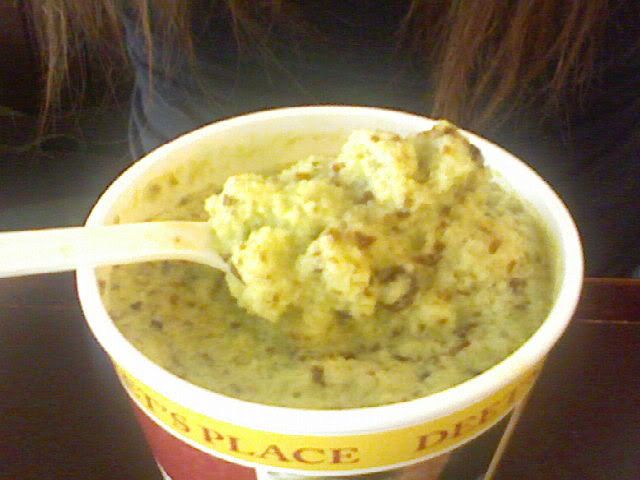 Photography by Vy's LGvx8500 (chocolate) phone
Go ahead!

Exclaim in utmost horror and with righteous indignation that the above photo is NOT of Bubble Tea.

And yet...sadly, it is.


"What

IS

this!?" Vy fervently whispers to me in undertones.


"Oh, no." I'm barely containing laughter at this point, "I think I know what it is."
Some poor, deprived and utterly clueless newb at Deet's blended the tapioca pearls with the ice. When he handed it to us, we accepted it in shock. Hell, we even managed to walk a few paces towards a booth to further ponder our mutilated bubbles...

We got new Bubble Teas, of course.

(after much hysterical giggling, MUCH)

But I should confess...we waited to specifically ask the Asian girl to make it.

I know!

We're incorrigibly picky upstarts.